What is this blog ?
For those who don't speak French, here is a brief overview of the blog in English. I'd like to thank Adam for his editing and suggestions!
I won't translate every section of the blog but do hope this summary will be enough for the international readers to understand its main purpose. The posts I will write from India will mainly be in French, but I will write a monthly summary in English. If you have any questions, feel free to contact me using the form (click on "contactez l'auteur").
India…It's been quite a long time that I've wanted to go there! And thanks to chance and luck, I will be there from January to September 2013, working as a volunteer in the Danish non-profit organization Periamma (to learn more about the organization, you can go to their website).
I consider it important to share my upcoming experience and created this blog with 3 main purposes in mind:
- Give readers the chance to discover a bit about India through the eyes of young European woman. Focusing on general themes like food, urbanism, music, culture,I will try to show how this country can be surprising and different from ours. This part will particularly be directed at the pupils of the Collège des Pierres Plantes -secondary school, who will be working during the year on the theme of "India" with their teachers and who will hopefully be able to learn even more through the blog.
- Share about my experiences as a volunteer with Periamma and talk about the different projects I will be taking part in. I will also give some details about the preparation and administrative process that you have to go though when you want to be volunteer in India.
- Think and learn about the functioning of non-profit organizations in India. In addition to my volunteer work, I also plan to visit different institutions working on original initiatives to improve living conditions for people around India... In doing so, I hope to gain a professional foundation in the non-profit field and also draw inspiration for how we can conduct our everyday lives.
What will I do?
My volunteer work will focus on a project that Periamma has just started in Parangipettai, a village located 4 hours south of Chennai. The project aims to open a space in the village's school where children can have access to computers, do creative activities and play.
The goal is to improve the children's English and computer skills and to encourage them to be more creative and innovative. My role there will involve working with a team to design the project according to the needs and preferences of the various stakeholders (local community, children, partners, etc.), as well as to relay information regarding the proceedings of the project to the team, supporters and sponsors in Europe.
About India and Chennai

It is easy to find information about India and all the things that you can do/see/experience there. India is an extremely heterogeneous country, full of diversities. It can be rich and poor, flat and craggy, warm but sometimes cold—in brief, a country impossible to describe in 3 lines. There are tons of websites, documentaries and books where you can learn more about India, so I won't tell you more than that. I'll just say that I am really looking forward to experiencing this diversity, and I hope I will manage to give you, if not a complete view, at least a personal perspective of India.
I would also like to add a few words about Chennai, the city where I will live for the next 8 months. Chennai is not as famous and attractive as Bombay, Delhi, Pondicherry or Goa. Even Lonely Planet makes you kind of wondering what you are going to do there when it says "No matter how determined you are, you'd be pretty hard pressed to find much to gush about when it comes to Chennai"…Seriously? Maybe I am optimistic or just naïve, but I have trouble believing that the 4th most populous city in India, with its 6.2 million inhabitants, doesn't have anything to "gush about". Of course I should probably leave behind some of my western expectations but I do suspect Chennai has more to offer than what we are told and I am looking forward to discovering it!
the school of Parangipetta - a broken bridge in Chennai - street in Chennai -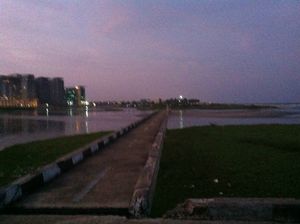 You can see more pictures in the album "Un petit aperçu de Chennai" - all the pictures were given to me by some friends who have been there, thank you Madhuri, Chloé, Katherine and Adam!